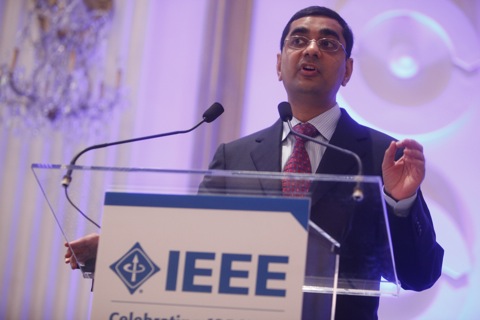 IEEE is a great organization, and I had great honor and privilege to help kick-off IEEE's 125th Anniversary celebration in New York on March 10, 2009. I had the opportunity to meet with countless IEEE dignitaries including IEEE's outgoing President & CEO Dr. Lewis M. Terman.
Other speakers included:
Miguel Nicolelis, professor and co-director, Center for Neuroengineering, Duke University Medical Center

Roy Want, senior principal engineer, Intel Corporation

Krishna Palem, professor, George Brown School of Engineering, Rice University

Katie Hall, chief technology officer, WiTricity

Rangachar Kasturi, professor, University of South Florida

K.J. Ray Liu, professor, University of Maryland, College Park
The panel was moderated by Steve Lohr of New York Times and by Susan Hassler who is Editor-in-chief of IEEE Spectrum.
Here is IEEE's newswire and related story in Scientific American.